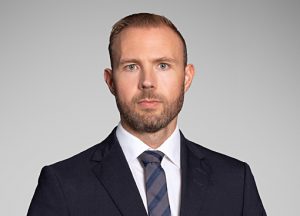 Øistein Sandstå Jacobsen
Øistein has in-depth knowledge of the Planning and Building Act and the municipal and central government processes this legislation pertains to. With close to 10 years of experience within this legal field, Øistein has particular expertise relating to zoning plans, development agreements, dispensations, construction cases, complaints processes, legalisation of illegal conditions and partitioning of property.
Øistein's work involves him assisting both private individuals and property developers. In order to offer clients the best possible follow-up when concerning matters relating to planning and building law, Øistein works in close cooperation with various architects. This enables clients to receive excellent follow-up and qualified advice relating to both legal and architectural matters. The feedback from clients has been that this provides them with a very reassuring process and good results.
Øistein also works with other matters relating to real estate, including property law issues, building and construction law and legal issues involving cooperative business associations, housing cooperatives and co-ownership. He also has experience with the purchase and sale of real estate, including both voluntary sales and enforced sales.
Øistein regularly holds courses in planning and building law and estate agency business.
Work Experience
2022 -

Partner, Ryger Advokatfirma AS

2021 - 2022

Managing associate, Ryger Advokatfirma AS

2018 - 2021

Senior associate, Ryger Advokatfirma AS

2017 - 2018

Associate, Ryger Advokatfirma AS

2017 - 2017

Associate, Advokatfirmaet Tjelflaat & Samdal AS

2013 - 2017

Legal counsel, Building matters, Askøy kommune, section of construction case and private plans

2012 - 2013

Adviser, NAV Forvaltning Bergen

2012 - 2012

Assistant Real Estate Agent, PRIVATmegleren Bergen Vest

2009 -

Adviser, NAV Forvaltning Bergen
Education
2009

Master of Laws, University of Bergen - Norway